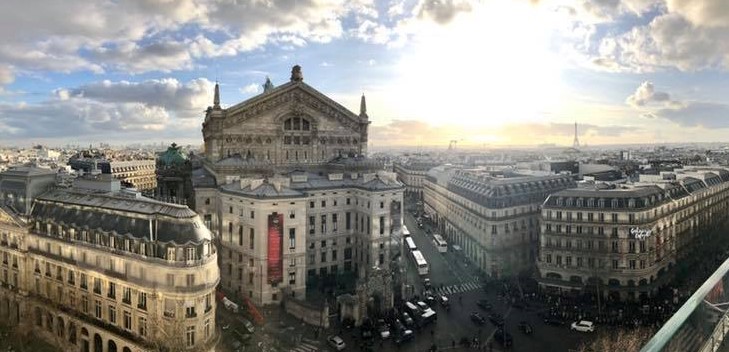 Paris can be an expensive city, especially to live in! Here are some ideas for things to do in Paris on a budget, so you can soak up the culture without breaking the bank.
Embrace the Cafe Culture!
What to do when you find yourself in Paris on a budget on a cold, bitter and windy day? Dip into a cosy Parisian café and order your 2.20€ Espresso (1.20€ if you want to sit at the bar). I have spent hours in various cafes, people watching from the window, practising my French, studying for my A Level, or getting lost in a book. To be comfortable enough to walk into any café and say 'je prends un café s'il vous plait' sounds like a small accomplishment, but it takes guts and transforms you into a confident, independent and brave Parisian woman for the day.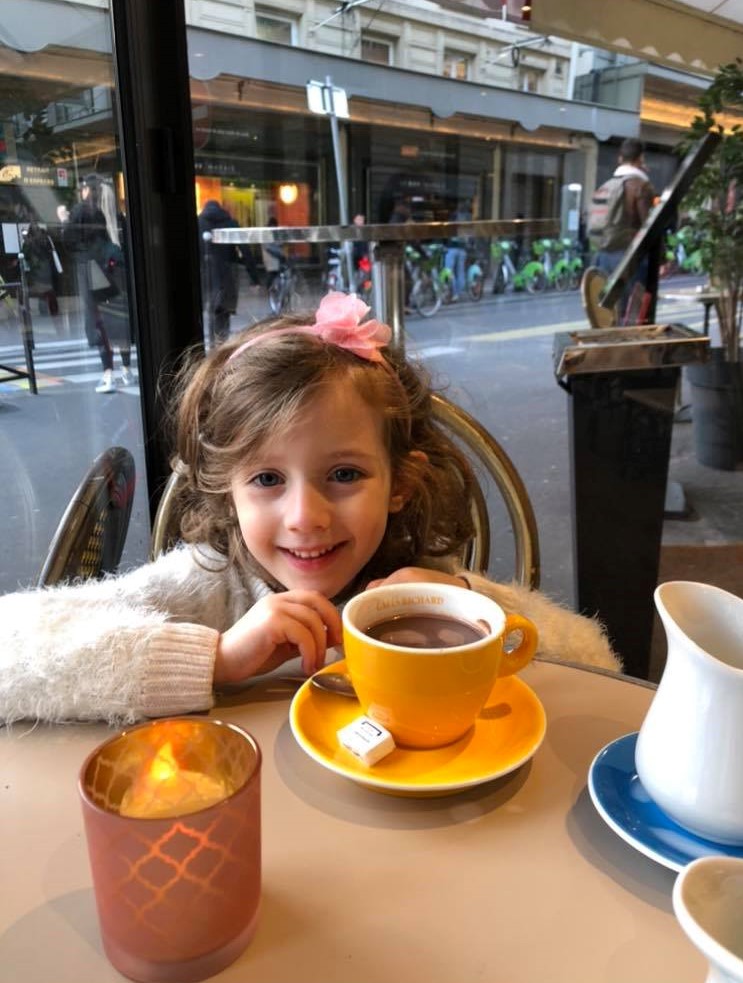 These are some of my favourites:
Le Temps des Cerises
31 Rue de la Cerisaie, 75004 Paris, France
This is a gorgeous, tiny café/restaurant tucked away in the backstreets of the Bastille area. Inside you will find quintessentially French décor, lovely staff (if you attempt French), and a great selection of old jazz and soul. The food is also gorgeous, but slightly out of my price range.
Espresso price for seated: 2.20€
Le Passy
2 Rue de Passy, ​​75016 Paris, France
I was slightly more intimidated by this café, I'm not sure why, maybe because it was busy and felt very local. However, I faced my fears and ordered a coffee (only having to repeat myself twice, woohoo!) I set up in their window seats and listened to the locals chat in that brilliantly animated French way, while watching the angry driver's confrontation outside (sorry for the abundance of cliché's). Even though Passy is on metro line 6, sitting close to Trocadero and the Eiffel tower, it still somehow feels like a charming French village.
Espresso price for seated: 2.20€
Le Relais de l'Hôtel de Ville
50 Rue de Rivoli, 75004 Paris, France
After the little girl I look after and I discovered we were locked out of the house and were in desperate need of a hot chocolate, we ducked into this cafe. The window seats jut onto the street, just across the road from the magnificent Hotel De Ville. It is a calm oasis on the busy Rue de Rivoli, where friendly waiters bring you jugs of milk and cups of pure melted chocolate.
Hot Chocolate: 5€ (little bit more expensive but so worth it)
Worth noting that you probably shouldn't let a 5 year old drink a whole mug of pure chocolate without expecting absolute sugar rush carnage afterwards.
Explore the Free Attractions
There are a multitude of free museums and attractions in Paris and I'm not talking about the stuffy, (sometimes) boring, free museums with no English translations, but the really memorable experiences.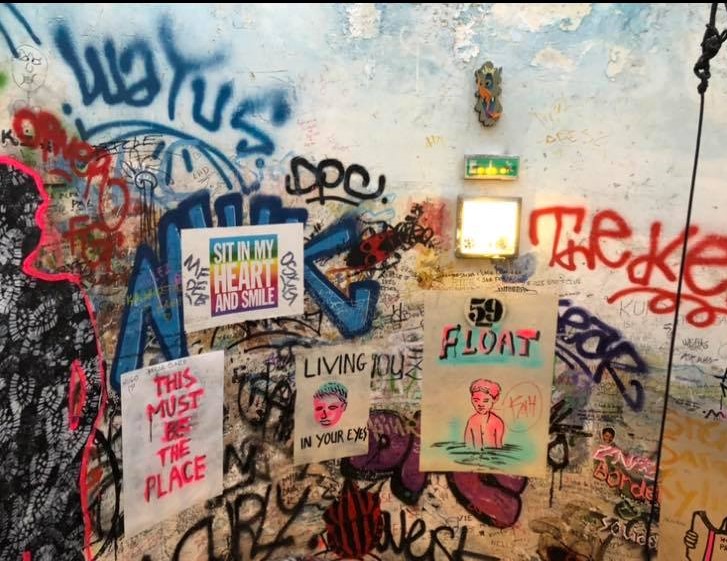 My Favourites:
59 Rivoli
59 Rue de Rivoli, 75001 Paris, France
This is an art collective in a former squat, an exhibition space and a concert venue. It is completely free, and 5 (or 6, I can't remember) floors of bright, interesting, and sometimes interactive art. As you wander round you can watch the artists at work, chat to them and appreciate their work as it's being created. 59 Rivoli embodies the edgy Parisian art scene, and invites you to be a part of it. Interested in Paris museums, check out this blog post for more tips on how to discover museums in Paris on a budget!
Arc de Triomphe
Place Charles de Gaulle, 75008 Paris, France
Without fail, every time I had visitors I made them climb up the Arc De Triomphe because, personally, I think it's the best view of Paris. Situated in the middle of Place Charles de Gaulle, Paris sprawls out beneath you: The Eiffel Tower, The Louvre, The Grand Palais, Montmartre, The Champs-Elysées, The Pantheon, La Defense, the list is endless… Even watching the traffic above is worth it (imagine a roundabout with no road markings and 12 avenues of traffic joining). It is often free for students/residents.
Père Lachaise Cemetery
Père Lachaise Cemetery, 75020 Paris, France
You can easily wander for hours through the small maze of tree lined avenues that make up this cemetery. The old buildings and graves are often decaying in a marvellously gothic fashion, however, with over 4000 trees, it makes for a beautiful Spring/Summer walk. The type of visitors vary, you can observe devoted 'The Doors' fans making their pilgrimage from all over the world to pay tribute to Jim Morrison, or the old Parisian couples strolling past Edith Piaf's place of rest.
Nightlife
Paris has always been known for it's drunken revellers drinking cheap wine until the early hours, and it did not disappoint! Throughout our time, Sebastian and I discovered plenty of brilliant and quirky bars, constantly trying to find the cheapest pint or cheapest glass of wine without compromising on the atmosphere of the venue.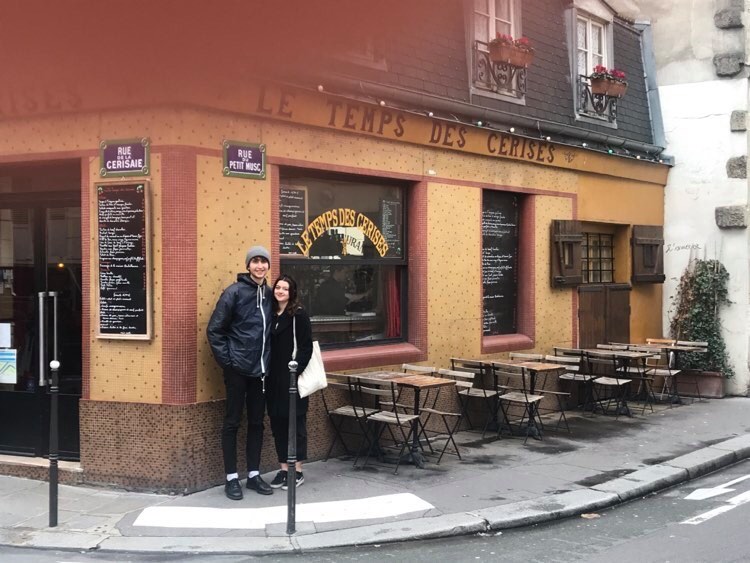 Here are my favourites:
Le Baron Rouge
1 Rue Théophile Roussel, 75012 Paris, France
This tiny bar is a wonderful glimpse into local Parisian life. Every night of the week it is bustling with diverse characters; the local couple who enjoy an apéro once a week, the old jazz musician with endless stories of Paris in the 60's to tell, a few young au-pairs lucky enough to find this hidden gem, and mostly just friends hanging out. Once inside you are encompassed by barrels of label-less cheap and tasty wine, at just 1.50€ a glass. Prepare yourself for the squat toilet, (as I said, it is authentically French, and this is Paris on a budget after all), and for the early closing time of 10pm. It is the perfect bar to stop in for a glass or two midweek, or to kick-start a bigger night (wine is cheaper by the litre).
Le Chateau d'eau
67 Rue du Château d'Eau, 75010 Paris, France
Here you will find 3.00€ pints (perfect for Paris on a budget) and wine for the whole night, good music, edgy wall art and a great atmosphere. Again, it is tiny and always popular but we have always been able to get a seat, even if we had to wait half an hour.
Supersonic
9 Rue Biscornet, 75012 Paris, France
Some of the best dancing-all-night nights have taken place here (especially on the funk and soul nights). It is a two story venue for live music, hosting various themes each night, like: Indie rock night, Funk and Soul night, and 80's night. It is free entry up until 11pm, but even after you are only asked to pay 5€. The prices for drinks here are pricey, and don't taste the best, making this one more about the music than the drinks.
Parks and Gardens
I think the sole reason Paris is my favourite city is because of the abundance of green spaces. Here are a few that I spent a lot of my time in: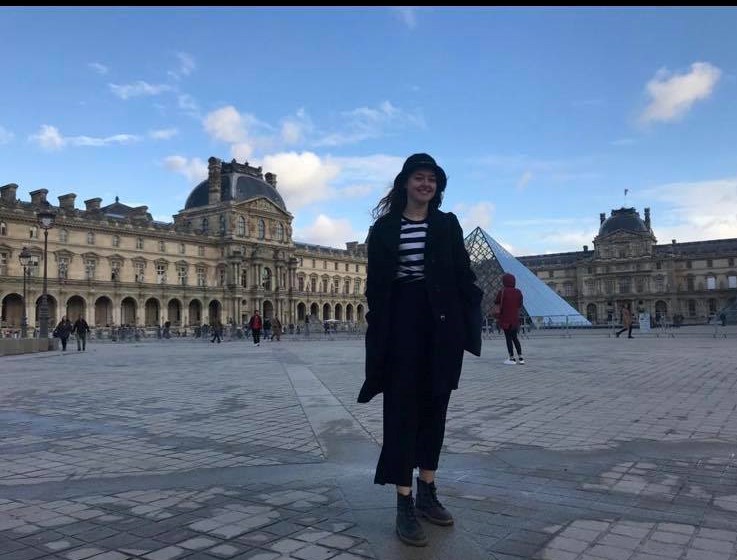 Jardin des Tuileries
I spent the majority of my Fridays basking in the last of the summer sun in September sat in these gardens. A wide boulevard leads down from Place de la Concorde all the way to the Louvre, dotted with a few cafes either side and lined with tall trees. This then dissipates into a wide garden with multiple statues and fountains. Lots of, surprisingly comfortable, green chairs can be found, making it the ideal place to kick back with a baguette, some cheese, and a book (ideally Bonjour, Tristesse). The location is idyllic: next to the Seine, Musee d'Orsay and the Louvre, with its own metro station. You can also pop into the Musee de l'orangerie to see Monet's Water Lilies and lose yourself in the beautiful colours and textures of the painting.
Jardin du Luxembourg
The grounds of the Luxembourg palace are vast and beautiful. The rows and rows of grand horse chestnut trees make it a beautiful and romantic walk, with various statues and fountains to be discovered on the way. It is completely free, easy to get to (with its own metro station) and right next to the Pantheon. The Pantheon is also worth a wander round and is also free. There you see the old floor to ceiling paintings and the huge underground crypt where notable French names are buried, like Rousseau, Voltaire and Marie Curie.
Parc des Buttes-Chaumont
Here, in one of the biggest parks in Paris, you can climb up and up and up the vast steep greens, cross the suspension bridge, past the waterfalls and caves and find one of the most tranquil and natural viewpoints of Paris. Even in the winter sun, wrapped up in enough layers, I would sit here chatting to friends on the phone for hours, reading my book, and eating a baguette.
Want some more ideas for Paris on a budget? Check out this blog post!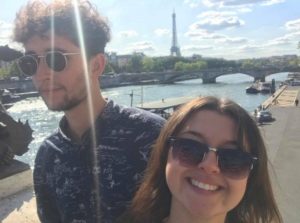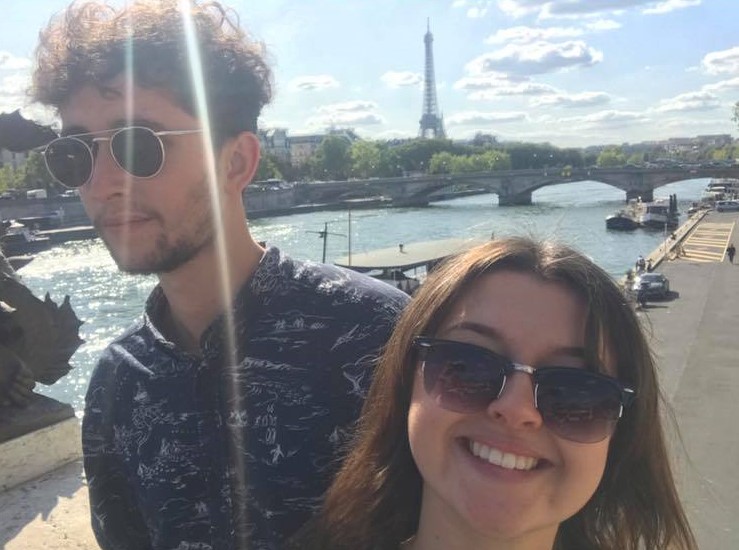 By Lauren Jeffries