When I first made the decision to move to Paris, a huge selling point was the wealth of culture the city has to offer. As an art lover, I quickly sought out the best art galleries in the city. Paris has a lot of museums, each catering to a different taste, and here I list a few of my favourites. With your weekend off, learn more about France's rich cultural history by visiting some of its most famous museums.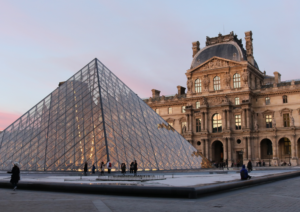 Le Louvre
You've probably already heard of the Louvre. It is the most famous art museum in Paris, and one of the most famous in the world too. It's home to Da Vinci's Mona Lisa (or La Joconde, to use its French name) as well as the Venus de Milo. The building is huge, so you won't make it round in one day. That being said, its a must-see if you live in Paris and is worth committing the day. After a morning enjoying art, you can spend the rest of your afternoon relaxing in the palace gardens (Les Tuileries), enjoying a picnic.
Metro: Louvre – Rivoli (Line 1)
Price: Free for under 26; 15€ full-fare
Centre George Pompidou
While the Louvre is the go-to place for classical art, those in search of something more modern can find it nearby! The Centre George Pompidou is located just a few metro stops away from the Louvre, in Paris' historic Marais district. It's a great place to hang out, go shopping, eat and drink. The museum (in itself a really cool building) is France's National Centre for Art and Culture, and houses a vast collection of modern and contemporary art. Make sure to also take a trip up the glass elevator to the top of the building for some of the best views of Paris!
Metro: Rambuteau (Line 11) / Hôtel de Ville (Line 1)
Price: Free for under 26; 14€ full-fare (*The permanent collection is also free for everyone the first Sunday of every month.)
Trocadero
Seasoned Parisians/art lovers may have already visited these two galleries and might be looking for something a little less touristy. My favourite art location, is Trocadero jn the west of Paris. When you get off the metro and squeeze through the crowds, you'll arrive at three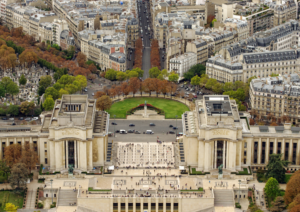 fantastic Parisian museums. Firstly, the Palais Galliera, a museum of fashion with an astounding collection of historical garments. Secondly, the Musée d'Art Moderne, specialising in 20th century and modern art. Finally, the Palais de Tokyo, a gallery of contemporary art exhibiting the most famous internationally renowned artists alive today. All three are fantastic in their own way, and each building itself is beautiful too. When you're done, you'll find yourself on the banks of the river Seinethe perfect place to take an evening stroll after a long day of culture and art!
Metro: Trocadero (Line 6/9)
Price:
Palais Galleria: Under 26 – 12€; 14€ full-fare
Mussée d'Art Moderne: variés depending on the exhibition, though under 26 pay reduced tariff.
Palais de Tokyo: Under 26 – 9€; 12€ full-fare
By Sean Kemp – CAP Student 2021-2022