The Paris Institute of Childcare Training offers numerous professional development opportunities. While these are available free of charge for our current employees, other childcare professionals are able to access the courses – to express your interest and receive a quote, please email contact@parisict.com
Induction training & how to teach English
Completed prior to you starting work with the children, the induction sessions cover basic health and safety policy as well as how to manage different behaviors and integrate English activities into your daily repertoire.
As soon as you join the agency you will be equipped with materials for the children and families you will be working with. We will also continually provide you with ideas for English acquisition activities as well as access to a library of picture books, children's novels, and learning workbooks.
Le Repertoire has a flexible approach when it comes to English learning and so we encourage you to explore and try different methods (such as the Montessori or the Cambridge methodology) which we will often share on our social media or website blog.
Yoga for Children
Learn how to lead individual children or a small group through meditation, mindfulness, and yoga poses tailored for a younger audience.
Theatre for Children
Learn how to use the concepts of theatre via exercises and games to increase self-confidence.
Musical Awakening
Learn how to introduce children to the various elements of music such as sound, rhythm, and instruments in the development of creativity, self-soothing, and learning difficulties.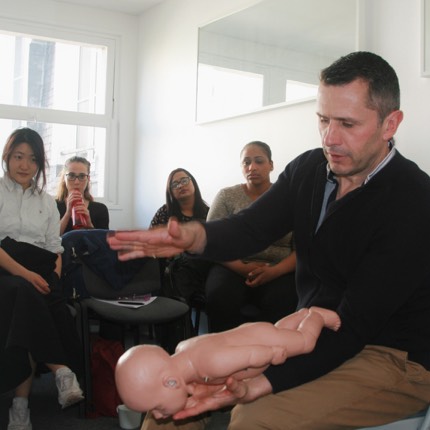 First aid training
Run by a qualified trainer through the Association Nationale des Premiers Secours, our first aid course focus on the following pedagogy:
Practical demonstrations and explanations
Training exercises in real-life situations
Focus on risks posed to children in the home and collective setting
The key objectives are to:
self-protection
assistance of victims and those present
contact the emergency services
provide first aid whilst waiting the arrival of professionals
The first aid course is included as part of the Early Childhood Learning diploma but is also offered to our other employees throughout the year free of charge. For other childcare professionals, please email for dates and a quote: contact@parisict.com