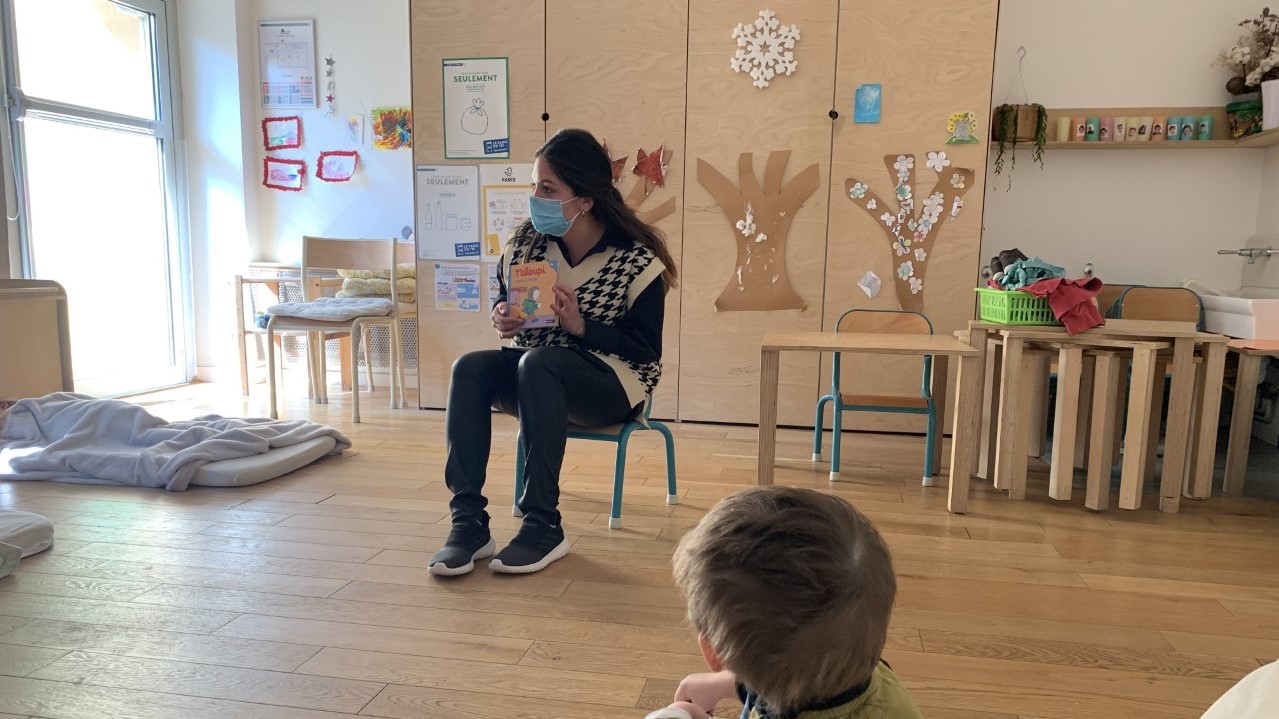 Since 2020, the Paris Institute of Childcare Training offers a new type of apprenticeship programme to build on the knowledge and skills gained from the CAP AEPE. Le Titre Professionnel d'Accueillant Educatif is a new diploma certified in 2019*.
The objective of the 10 month course is to ensure childcare professionals are best placed to accompany children aged 0 to 6 in a professional setting and home setting as well as supporting their parents.
Your knowledge of child development will be will be enlarged, focusing on child psychology, modern pedagogy concepts and introducing the subject of accompanying and supporting parents.
The training programme is made up of three key parts :
Learning and group work at our training centre the Paris Institute of Childcare Training
Work with a family as a childcarer to help the children to speak and learn English.
Learn during your work placement in a pre-school or crèche to put the theory into practice and start developing your professional network.
There are regular evaluations through-out the duration of the programme plus a comprehensive assignment and research paper presentation at the completion of 10 month course to validate the qualification by an external body. For more information, please visit France Compétences*.
Running from September to early July each year, we accept applications all year round. Note you need to have a B1 level of French and having completed your CAP AEPE is preferable in order to join our Titre program.
* in process of recertification
Titre AE v CAP AEPE?
Aimed at those who already have their CAP, this training takes you to the next level.
This training aims to provide a stronger foundation for the «Accueillants Educatifs» to work with children aged from birth up to six years old at home or in «structures d'accueil collectif».
Compared to the CAP AEPE, this training programme builds upon the subjects of child psychology and pedagogy.  It will also boost your confidence and your skills to work with children with more autonomy and is totally oriented to boost the knowledge of child development through theory and small group workshops.
This programme has a «niveau 4», which means «BAC» level, which will open the door to any other French diploma and university (in France, the BAC is the «gateway» to access university-level studies).*
* in process of recertification
A typical week
You can expect to work an average of 35 hours per week over a ten-month period from late August to early July.
Classes and small group ateliers are usually from 9am to 3.30pm at the Paris Institute of Childcare Training. Please note some of these classes take place via online learning.
The second part of the day is spent working with a family (~20 hours per week) and putting all your knowledge into practice ! You would usually pick the kids up from school and take them home until their parents get back – from about 4pm to 7.30pm each weekday except Wednesdays when it is a half or full day of work.
There is no weekend work and while there are no classes during the French school holidays, you will be required to complete autonomous research projects.
Work placements
Work placements, called a stage in French, are an opportunity to put the theory into practice and work on your French in a professional environment. Our stage partners range from international and bilingual schools to crèches in Paris and its surrounding suburbs.
Opportunities after the Titre AE
Through the programme, you will build on your pre-existing childcare skills and be well placed to:
teach in French schools as teaching assistants;
work in a French or bilingual creche (the CAP qualification is also a requirement for most creches);
work in a French or bilingual halte-garderie;
work with one of our international partners (who you may have already worked with as part of your placement)
After the ten months, you can also continue working as a childcarer with Le Répertoire de Gaspard
Salary
With a combination of learning/study, family work plus your work placement, you will earn a minimum salary of 1000 euros NET per month over a ten month period.
This type of contract is like an apprenticeship and so you will need to have a visa allowing you to work full time.
Find out more about our childcarer employment benefits.