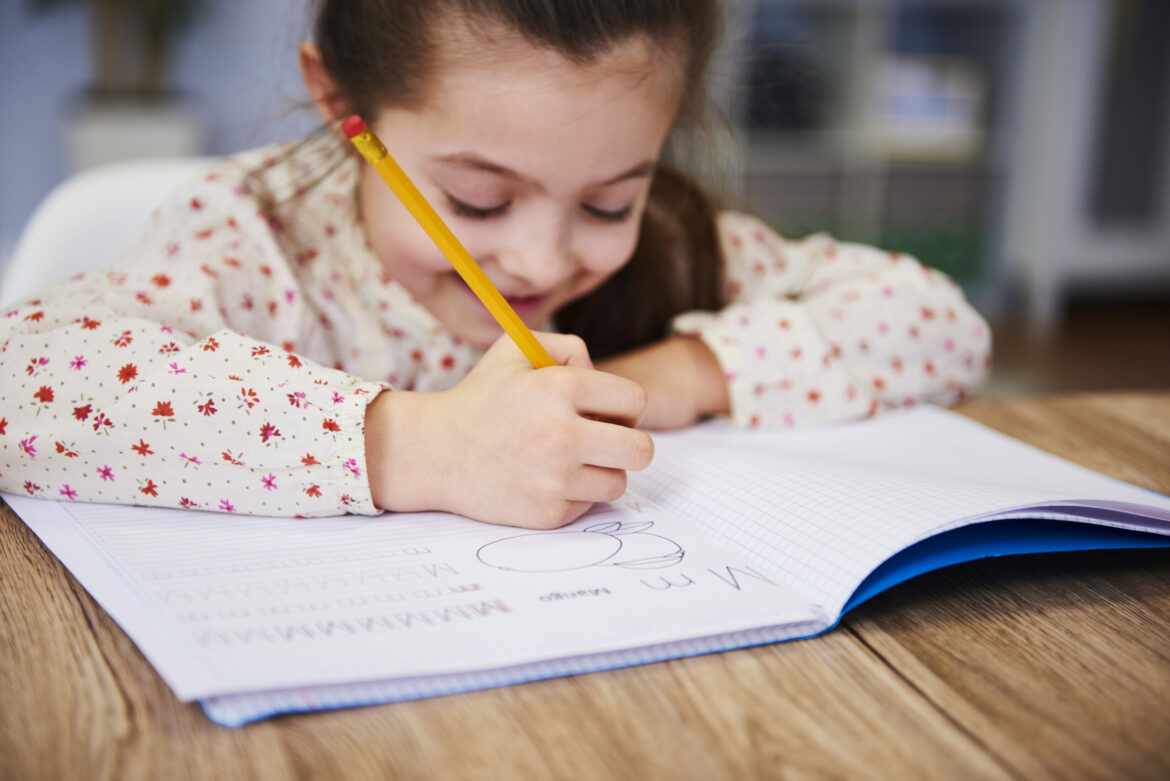 If working in childcare interests you – why not apply now to work with Le Repertoire de Gaspard?
My name is Reina Onywere and I am preparing for the CAP Petite Enfance. I care for 2 children and my ultimate goal at the end of my training is to aid these children in their journey to become fluent in English with fun and interactive ways of learning. Read on to find out more about language acquisition and story writing.
Language Acquisition and Story Writing – Where to get started
By age 5, most children are being given formal training on how to read and write effectively. This can be a daunting task in the native language and even more so in a foreign language, as pronunciation, sounds, and sentence structure can be co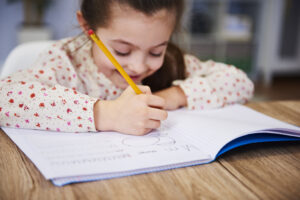 mpletely different.
However, if you realize your little one loves expressing themselves through drawing and storytelling, it can be a fun activity to assist them in creating their own stories.
Taking it step by step
At first, this may seem intimidating but the foundation of story writing is already there. Children already have active and imaginative minds filled with short stories they make. The real task is having them express it through writing and understand what they note down.
Pronunciation
Pronunciation and separating words into syllables are vital. As a result, until the child shows a level of comfort, activities focused on this skill should be carried out in the form of games and reading books.
Writing
The next step is having them spel and write what they hear. Their writing abilities are under continuous development at this age, and simple dictation is a great way to commit sounds to written words.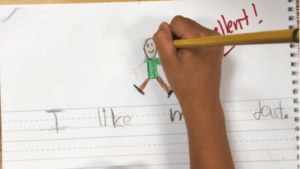 The Book
In between these actions, a way to construct the book itself is by DYI from coloured paper. They can hold it together using glue, staples, or by punching holes and tying it with ribbon or string. They are free to add whatever accessories they please to their book to personalize it.
This can be through drawing and colouring, stickers, stamps, glitter, or anything they would like to attract to it with tape or glue.
Putting it all together
Finally, now that all the steps are complete, it's time to put the training into action! Let their imaginations run wild! It can be a tall task for a child to write exclusively in a foreign language, at first, they can write the context for their story in French. Make sure to have them write each word in a different colour. The reason for doing so is that when they go to write it in English, they can relate the words written in English to French by writing them in the same colour.  For that reason, it will help them to quickly identify words, where to place them in sentences, and how to use them.
And voila! We now have the first story written out of many to come.
By Reina Onywere, CAP Student 2022-2023