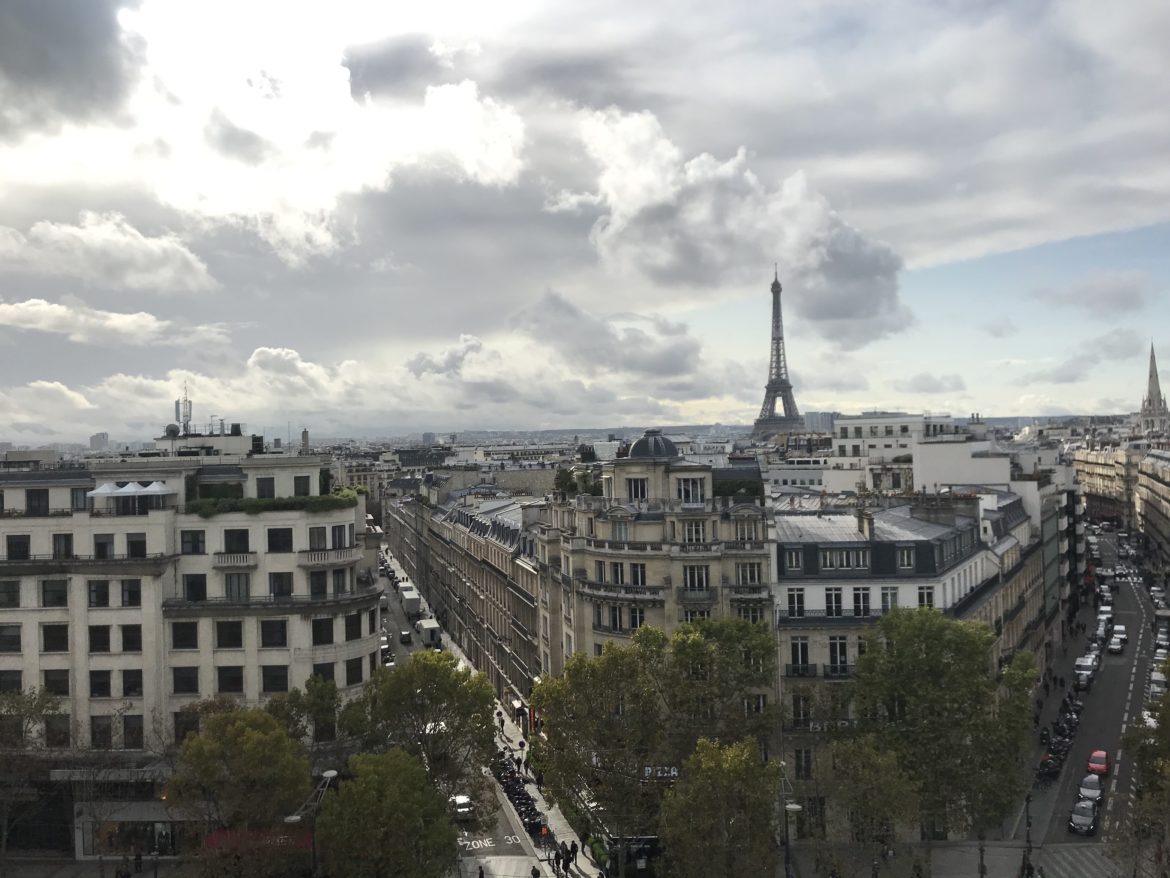 Paris, everyone's heard of it. The city of love, the city of light, the Eiffel Tower… the list goes on.
But with so much to do how do you choose? And how do you fit it all into, say, a weekend? And not only that, but how do you have an experience that is a little more unique?
Well, take a look at this guide to 48 hours in Paris, but let me forewarn you… there will be no meandering around the Louvre or shopping on the Champs-Elysées here.
These 48 hours in Paris would be how I would spend my time, if I were to only have a weekend in this beautiful city I get (now) to call home. 
Saturday Morning, 48 hours in Paris still to go
The first stop in my 48 hours in Paris adventure would be without a doubt la boulangerie. A sacred place to Parisians, you can find one on almost every street corner. However, be warned, some are better than others. Go early and get the first fresh batch. My personal fave? My local, Pain Pain (Rue des Martyrs 18eme) My order? It's got to be their croissant aux amandes, so dreamy, or, as the name suggests, one of their bread items (lardons/chorizo). Also, pick up a baguette ('une tradition' not a normal baguette of course), you'll need that for later.
Take your baked goods of choice and wander around the quartier Pigalle. Avoid the steps and the tourists by heading away from Montmarte / Boulevard de Clichy and the famous Moulin Rouge, but (instead) walk down to the smaller streets of South Pigalle (or SoPi as it is known by locals).
Want some more patisserie ideas? Check out our top 5 Paris patisseries.
Not feeling like exploring the streets? Head down Rue des Martys, it's a beautiful market street, particularly bustling on Saturdays, it's a feast for the eyes and the smells are amazing.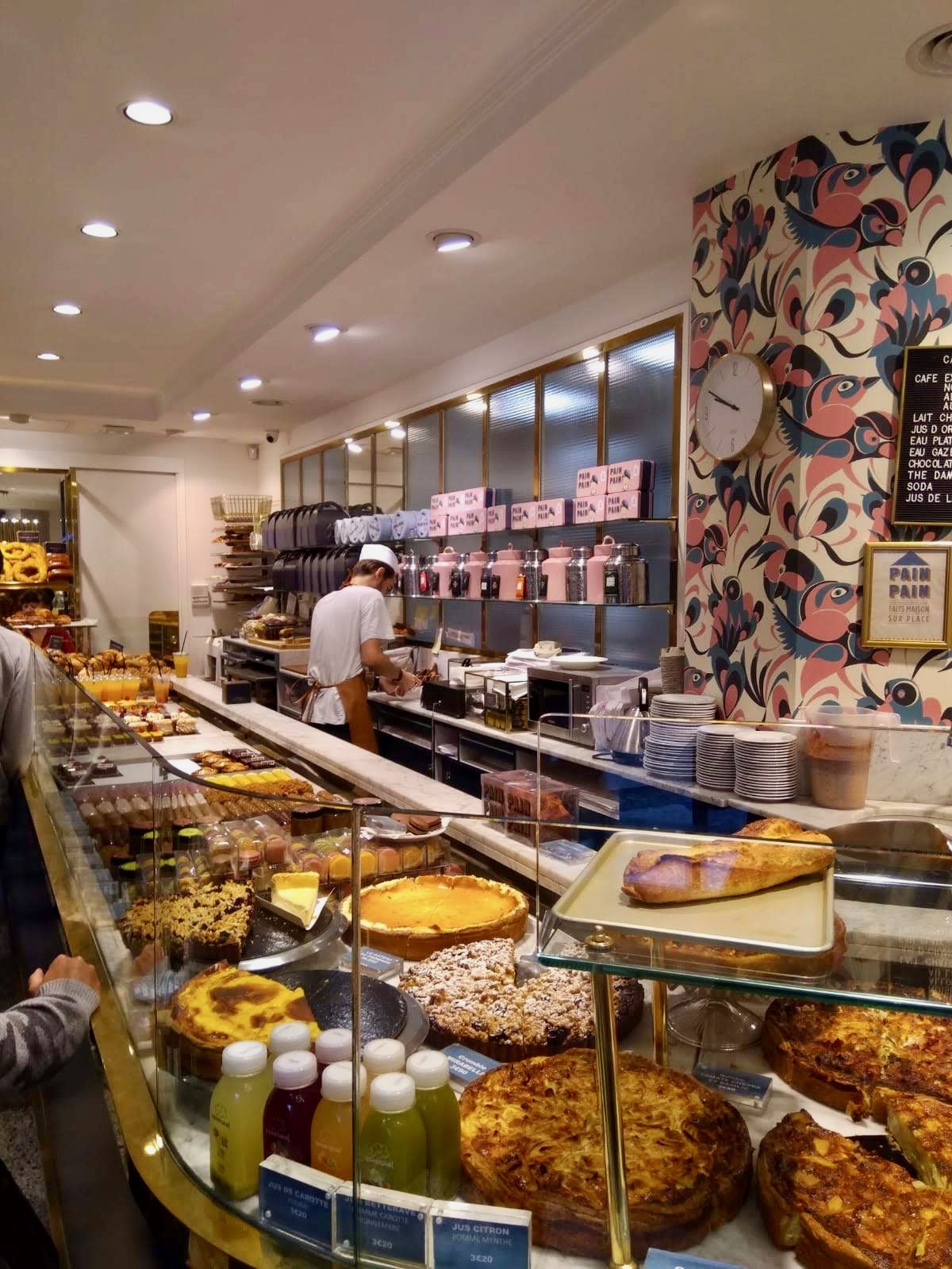 Saturday Afternoon
Make your way down to the river, preferably by foot for maximum enjoyment of the beautiful Haussmann style buildings Paris is famous for and, because it's Paris, probably passing a monument or two.
Pick your perfect spot along the river side (weather permitting) and do as you'll see lots of other Parisians doing; déjeuner. That's right, lunch is a picnic.
But when I say picnic I don't mean squashed sandwiches and a bag of crisps like the childhood picnics I remember, we are in Paris after all.  After many an experience of having a mediocre spread whilst I walk past others with oysters and champagne, I feel like I have the setup pretty much sorted.
So, take out your bread, and preferably your array of cheese from the fromagerie, saucisson, chips and dip, hey, why not, a rotisserie chicken if you're in the mood. Top it off with a bottle of vin rouge (pack your corkscrew as so many of us once upon a time have found out the hard way- France DOES NOT do screw-tops). And sit; and watch and chat and eat and drink- soak in the real Parisian culture without anyone in sight trying to sell you an Eiffel Tower keyring for a 'good price'.
Saturday Night
There are endless options for a Saturday night in Paris, it's almost rude to try and narrow it down to one choice. The beauty of being in a city so rich in culture and entertainment is that quite frankly you could do whatever you feel like at the time. So, right now, if I had to do Saturday night in Paris I would suggest you check out La Felicità (13eme). It's essentially a food hall with various food trucks and is set up by the Mamma group- which, by the way, do three fantastic restaurants around the city. La Felicità comes alive at the weekends and it's the perfect piece to grab a delicious Italian bite and a cocktail (or your preferred beverage) whilst enjoying the DJ set and admiring the beautiful surroundings. The atmosphere is great, and, like Audrey Hepburn said of Paris, it is always a good idea.
Want some more ideas for places to eat in Paris, check out our blog post for must do Paris restaurants.
Sunday Morning- 24 hours in Paris left
Seize the day and shake off any groggy heads from the night before with a morning stroll along Canal Saint Martin. Its located in the. 10e arrondissement and it's is a trendy and tranquil place to stroll. With lots of little bridges crossing the canal and, in summer months, the banks often lined with people relaxing. It makes for a perfect Sunday morning vibe to get you into the swing of the day.
Once you've worked up an appetite, (this is France after all so of course your whole day revolves around the next food spot or watering hole), head to Holy Belly for a spot of breakfast.
Holy Belly is a cool, trendy, and very tasty place for breakfast. It specializes in a selection of seasonal delights. Great coffee, better food, what more can you ask for! The house made granola is delish and the pancake stack is pretty impressive.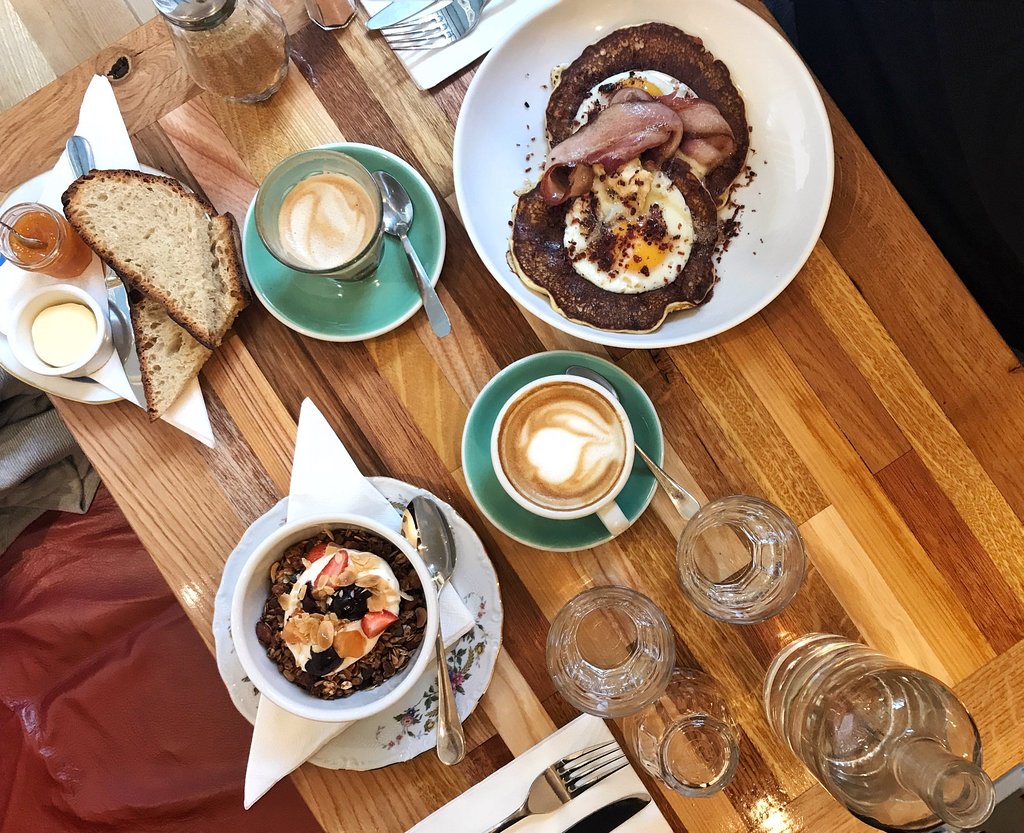 Sunday Afternoon
After your belly is full, why not use that energy to explore one of the city's many amazing museums. There are so many to choose from and it's really worth checking the websites for current exhibitions. Of course, you have the famous Louvre, but really, on the weekend who wants to battle with those queues?!
One of my current favourites is L'Atelier des Lumières. It is situated in the 11e arrondissement, which, as the name suggests, specializes in light displays. Their recent Klimt exhibition went down a storm, using light, music and video to portray the artists famous pieces. It really must be experienced to be fully understood. One of the best exhibitions I've ever been to.
Another museum I love is the Palais de Tokyo in the 16e arrondissement. This modern and contemporary art museum always has a great permanent collection. It also hosts a variety of temporary exhibitions which are often innovative and sometimes more 'interactive'. It also has a really great book shop, cool bar and restaurant, and, as overall experiences go, it's pretty damn good… It also has an Eiffel Tower view, because, lets face it, it is nice to see 'the lady' every now and again.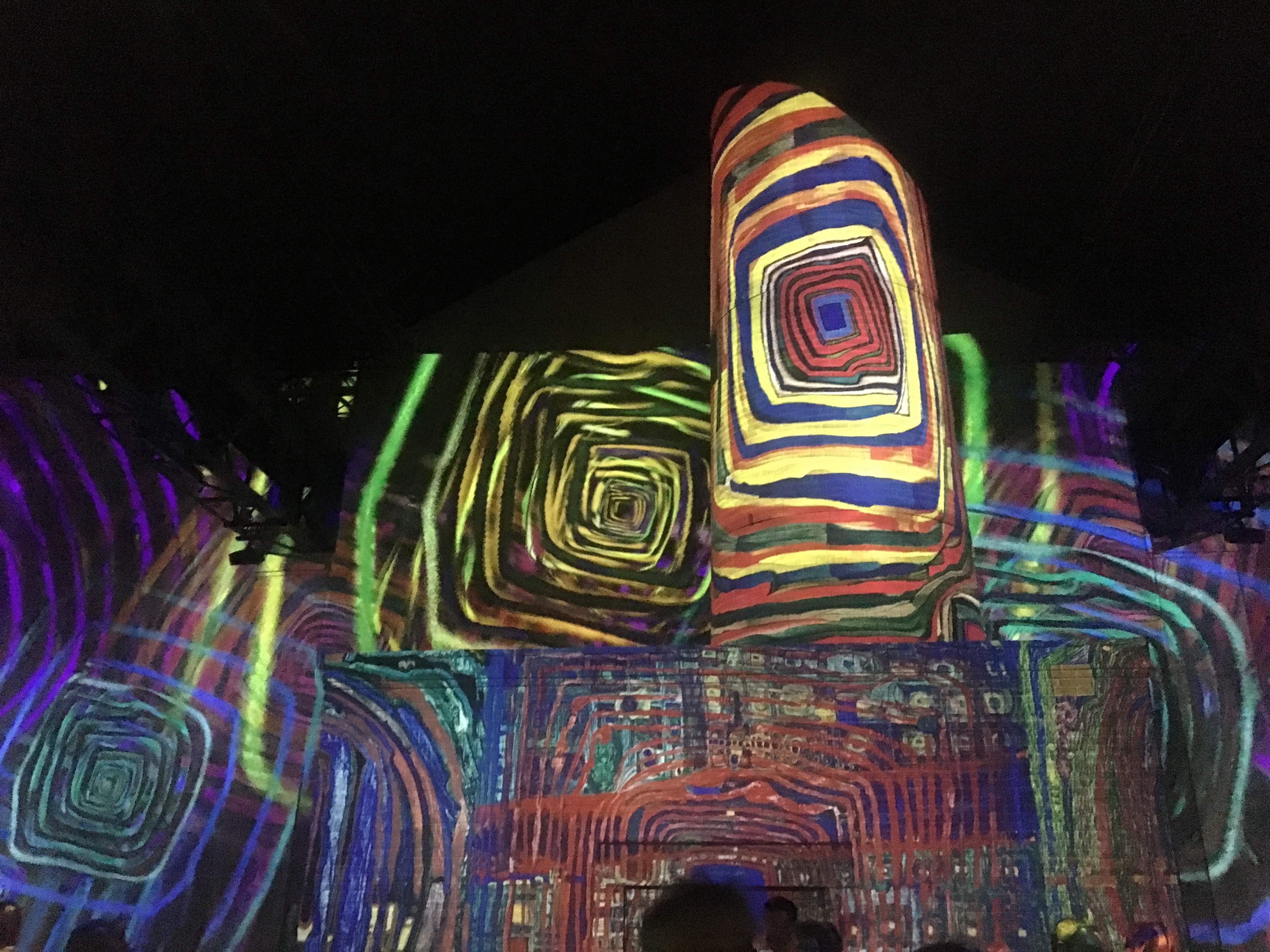 Sunday Evening
When you are weary from soaking in all that culture, and the 'Sunday night' feeling is starting to set in, you have to think of something great to round of the weekend.
Of course, if this was reeeally my last evening in Paris I would have to partake in some boring admin of packing or checking in for a flight and the like, but thankfully this is fictional, so we can go out with a bang!
I would finish off my 48 hours in Paris just a street or two from where I started in my favourite, and, I'm lucky to be able to say, my actual quartier, Pigalle. I would head to the Bouillon Pigalle, a bustling bistro with an amazing lively atmosphere, lovely terrace, and amazing price tag. It's simple, honest French food, no frills but big flavours. At around 3 euros for a starter or dessert, 10 for a main and 8 for a litre of wine you really can't go wrong.
My personal fave dishes, To start: the Os à mœlle (bone marrow) served with bread and sea salt, it just melts in the mouth, and the Œufs mayonnaise (egg mayonnaise) served on a few spinach leaves. It doesn't sound too groundbreaking but it's delicious and is served with homemade sourdough bread. The Main: You can't go wrong with the steak frites, topped with a glorious herb butter, or the Gratin de chou-fleur with sauce Mornay (cauliflower gratin) is a great veggie option. Still hungry? Finish off your meal with a giant profiterole with ice cream and hot chocolate sauce and leave feeling happy and, a little merry from the wine.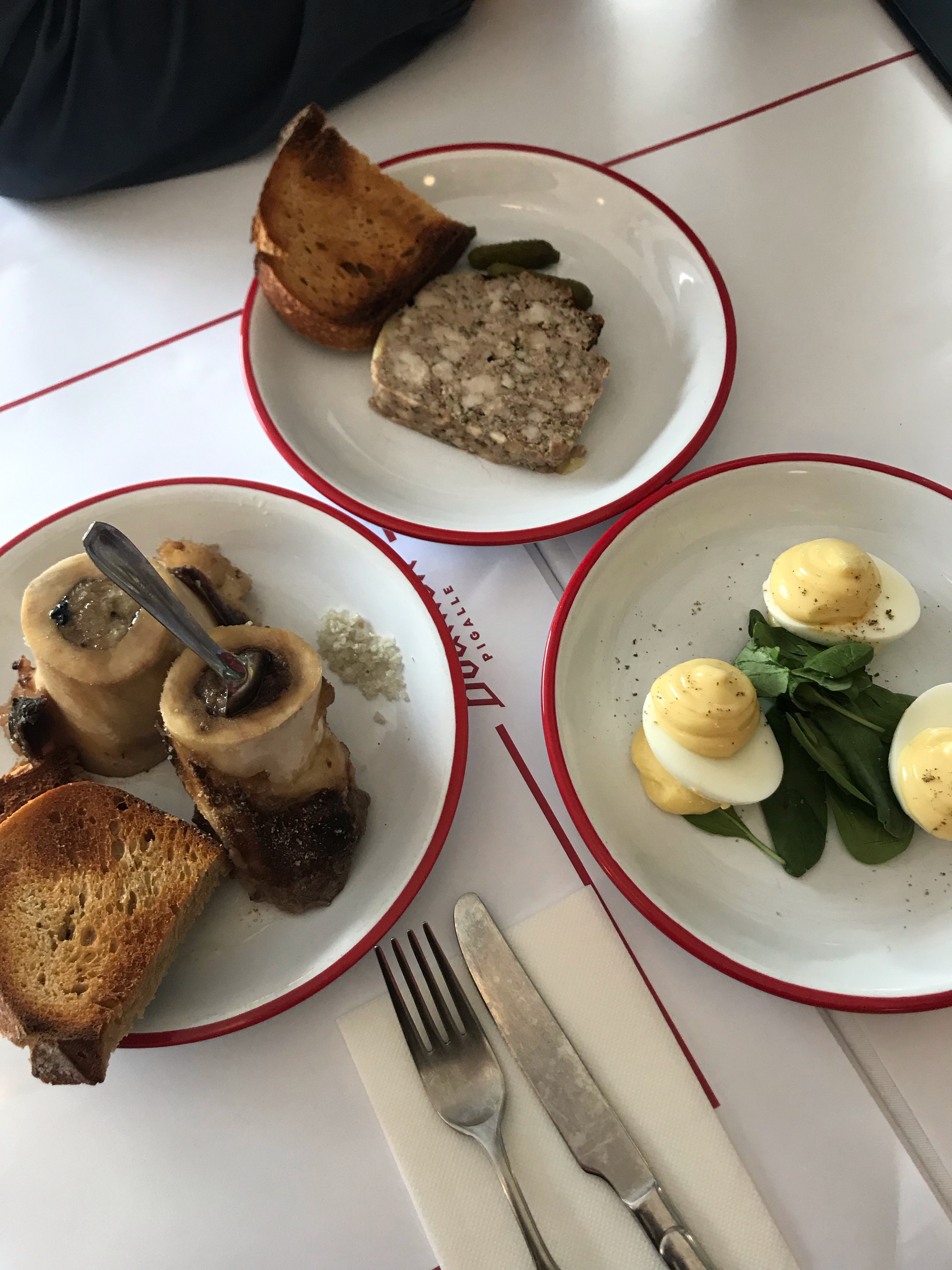 Finish the night off with a nightcap in one of the pretty bars and cafés on the corner of Rue de Douai and Rue Pierre Fontaine, checking out Paris' most colourful basketball court on Rue Duperré, famously decorated by the graffiti artist Pigalle.
And that's that!
My 48 hours in Paris. It's a hard task for such an amazing city. Thankfully I don't have to limit myself to just 48 hours…
Want to discover more things to do in Paris? Check out our blog for some off-beat ideas for Paris.
Want to join the team? Visit our website and you could be exploring Paris like a local too!