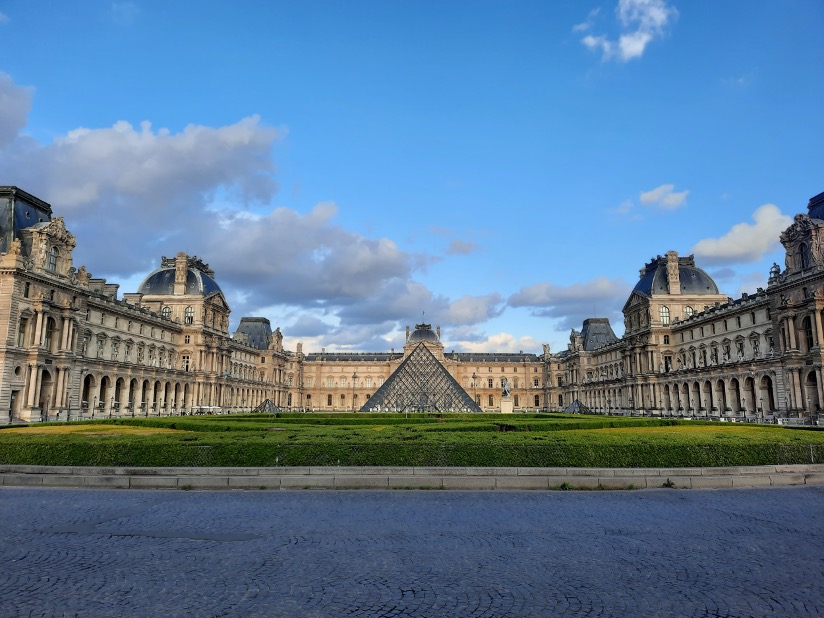 Hi, my name is Fernanda and I am one of the CAP students from 2021-2022.  I moved from México to Paris a year and a half ago to pursue my dream of living in Paris. It was a huge change but I don't regret it for one minute. When I arrived to Paris I already had a "support system" here and since I know not everyone that moves to Paris has the luck to have this kind of support, I am going to share a list of the things to know before moving to Paris, with a special focus on Mexican and Latin Americans.
Bring original versions and copies of your personal documents
If you want to avoid a trip to the consulate I recommend that you bring the "apostille" of your birth certificate, college degree and all other official documents.
*I also recommend you to have your CV translated in French and in English (just in case) as well as your recommendation letter.
Check the expiration date on your passport
This is basic, if you are planning on staying in Paris for a while make sure that your passport is not going to expire in less than a year. Getting an appointment for a passport renewal in a consulate is hard, there are only have a few appointments per month.
International bank
Before coming to Paris I had to change banks so I would be able to take money out from my Mexican account without having to pay a big commision. Make sure that the bank account you have will allow you to pay or withdraw money, and it should have a partnership with a French bank, in my case I changed to a bank that has a partnership with BNP.
Power adapters
I know, it sounds cliché but honestly it's one of the things you have to consider to bringing, otherwise your electronic devices are not going to work!
Get a French SIM card
Again, having a SIM card is a basic way to survive while living abroad. One of the first things you have to do, either at the airport or once you are settled in your new address is to get a SIM card.
Get a Navigo
As soon as you can buy a monthly Navigo on any metro station, trust me, this card will help you a lot in terms of transportation because you can use it either on the metro, bus, RER, Tram lines, the Montmartre Funicular or the Transilien train lines, that means you will be able to move not just in Paris but you will also be able to make small trips to cities close to Paris, you can pay it weekly, monthly or yearly.
Learn French
Ok, I know that we can learn French here but it will be much better for you if you arrive knowing a little bit of the language, that way you wont feel completely lost. I am not saying that you should arrive with a B1 level, just knowing the basics, before moving to Paris, try using a language learning app such as Duolingo.
Pick your clothes
Golden rule for living in France, BRING NEUTRAL CLOTHES. Here you won't have a lot of space for your wardrobe and I know we all have this idea of the glamorous Paris style but the truth is that Paris is only glamourous during the fall and winter because of the beautiful coats, other than that the parisian style is BASICS and NEUTRALS. They are the kings and queens of the capsule wardrobe, so before packing try to focus on that, remember "less is more". Also, avoid wearing a béret, a lot of color and big jewelry, why? Because those are things that only tourists will use and that makes you a target for the "pickpockets"
*Extra tip: bring at least two pairs of sneakers, Paris is a city where you walk A LOT so forget about the high heels and embrace the sneakers (this was really hard for me but now I can't go out without my sneakers)
Be aware
I am saying this out of experience, during my second month in Paris someone stole my phone in the quickest and sneakiest way so…NEVER EVER put your phone on the pocket of your coat or on the back pocket of your jeans, always put it on your handbag with the zipper closed or hold it in your hand with a pop socket and always be aware on the metro and if you are walking alone.
Learn how to cook
This point has saved me more than once from being homesick, everytime I get homesick I cook something that reminds me of home. Also if you know how to cook you will be able to save some money because eating take outs or pre cooked things from the supermarket can be really expensive.
Free museums
Save money and plan your free visits to different museums. The first Sunday of every month some museums are free, check the list online and make sure to "buy" your ticket beforehand.
Join Facebook groups
I know it sounds like a tip that your aunt would give you but they are really helpful, either to look for help while doing some paperwork or to make new friends. Sometimes there are French people looking for someone to practice the languages that you know and they help you to practice your French in return.
I hope these tips will help you if you are considering moving to Paris and that just as it was for me you won't struggle a lot in your new adventure.
By María Fernanda Martinez Scherenberg – CAP Graduate 2022
Learn more about the CAP program and our other study options here